¿Quién está en línea?
En total hay
2
usuarios en línea: 0 Registrados, 0 Ocultos y 2 Invitados
Ninguno
La mayor cantidad de usuarios en línea fue
88
el Sáb Sep 01, 2012 6:28 pm.

¿Te gusta el Rock, Hip Hop? Quieres escuchar musica latina gratis? ¿Deseas agregar una estación de radio a tu Xat chat y no sabes cómo o dónde obtener una dirección IP? Esta página te ofrece una manera fácil de buscar una estación de radio de SHOUTcast™ gratis. Usted puede realizar una busqueda por estación de radio, palabra clave, artista o género (reggaeton, cumbia, salsa, romantica, etc ..). También puedes escuchar la estación de radio dandolo click al enlace ESCUCHAR. Cuando haya encontrado una emisora de radio que le interese, simplemente haga clic en el botón OBTENER IP para conseguir la dirección IP.
Que es SHOUTCAST?
SHOUTcast™ Radio es uno de los mayores directorios de profesionales y estaciones de radio programadas por la comunidad en línea en el mundo. Hoy en día SHOUTcast™ Radio cuenta con más de 25.000 estaciones de todo el mundo. Si estás interesado en la música popular o indie, o quieres estar al tanto de la programación local o mundial, seguro que encuentras algo que te gusta en SHOUTcast™ Radio (Radio SHOUTcast™
What is SHOUTcast?
SHOUTcast™ Radio is one of the largest directories of professionally and community programmed online radio stations in the world. Today SHOUTcast™ Radio features over 25,000 stations from around the globe. If you're into popular or indie music, or want to check out local or world programming, you're sure to find something you like on SHOUTcast™ Radio (SHOUTcast™ Radio
BUSCADOR IPs DE RADIO
COMO COLOCAR UNA RADIO EN TU XAT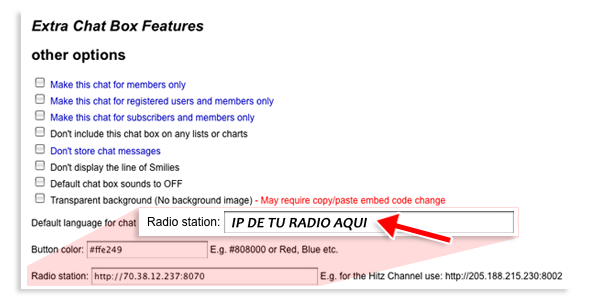 ---
Permisos de este foro:
No puedes
responder a temas en este foro.